I have only seen one season of the
United States of Tara
. Toni Collette rocks! It was fun to see Collette play Tara's "alters." My favorite alternate was Buck, a Vietnam vet who claimed his penis was blown off in the war.
$69.99 for
United States of Tara DVD Box Set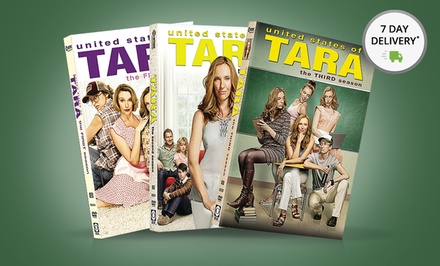 United States of Tara DVD Box Set. Free Shipping and Returns.
All three seasons (1–3)
Stars Golden Globe- and Emmy-award winning Toni Collette in the title role
Created by Diablo Cody, Academy Award-winning screenwriter of Juno
DVD format
Groupon's discounts are bigger than a dinosaur on a stepladder. You and Groupon both like doing the coolest things, you both like saving 50-90%, and you both look great in green. And if you click
my link
and buy a deal, I might even receive a referral credit!
Check out Groupon and sign up for their daily deals today!