Wizard of Oz Animated 4-DVD Set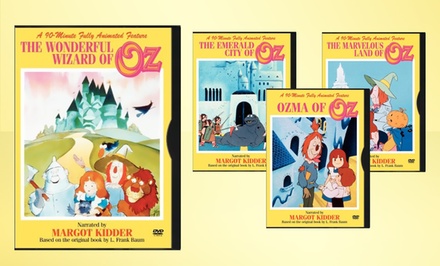 $12.99 for the Wizard of Oz Animated 4-DVD Set ($39.92 List Price). Free Returns.
Contents
The Emerald City of Oz
The Marvelous Land of Oz
The Wonderful Wizard of Oz
Ozma of Oz
I have someone I'd like you to meet. You and Groupon both like doing the coolest things, you both like saving 50-90%, and you both look great in green. And if you click
my link
and buy a deal, I might even receive a referral credit! Check out Groupon!
~
This DVD set is news to me. I didn't realize that there was an animated version of the book. I was only familiar with the film adaptations. Speaking of the 1939 film...
The Wizard of Oz
will be re-released this fall on DVD (including Blu-ray,
Blu-ray 3D
, and UltraViolet) for the 90th anniversary of Warner Bros. and as part of the film's 75th Anniversary.
I have yet to read the novel
The Wonderful Wizard of Oz
by L. Frank Baum. There is no excuse. It's available for free for
Kindle
via Amazon. There is also a free eBook PDF version available at
The Book Depository
.
Have you read the novel?