I learned of the
Firefly
-
Serenity
cult TV

craze
after looking up a flashback comment that Sheldon Cooper made in
The Staircase Implementation
episode of the
television show
The Big Bang
.
Sheldon

: Roommates agree that Friday nights shall be reserved for watching Joss Whedon's brilliant new series, Firefly.
Leonard: Does that really need to be in the agreement?
Sheldon: We might as well settle it now. It's going to be on for years.
It was cancelled early which is why Sheldon's comment is so funny.
I'll post the pilot episode of Firefly
for those of you who haven't seen it or want to see it again.
Any who...
Serenity is Firefly's backstory - a standalone movie prequel, if you will. It stars Nathan Fillion (now on another show that I blogged about earlier this month - Castle), Alan Tudyk, Gina Torres and Morena Baccarin.
At $6.99, th
is collector's edition is fully loaded. See the Groupon page for more details.
This is a
must-own
DVD for sci-fi and Joss Whedon (
Firefly
writer and director) fans!
Are you a fan of Firefly and/or
Serenity?
Serenity: Collector's Edition Two-Disc DVD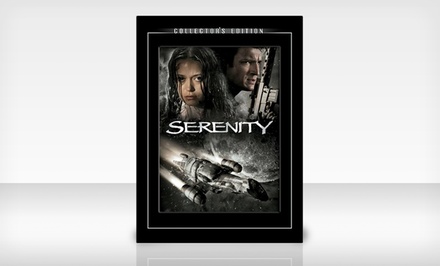 $6.99 for a Serenity Collector's Edition Two-Disc DVD ($26.98 List Price). Free Returns.
I have someone I'd like you to meet. You and Groupon both like doing the coolest things, you both like saving 50-90%, and you both look great in green. And if you click
my link
and buy a deal, I might even receive a referral credit! Check out Groupon!
* Please give me
+K about Television
on Klout. Thanks!