As I said in my
previous post
, I came across the
Firefly
series because Sheldon Cooper (
The Big Bang Theory
) is a fan.
In all honesty, I was a bit skeptical about watching Joss Whedon's
Firefly
at first. A sci-fi Western hybrid television series did not sound too appealing to me. Space cowboys? I didn't think so... but I gave it a try anyway. As usual, I played catch up by watching
Firefly
's only season on
DVD
. I grew to like it after a couple of episodes, although I still find the concept odd.
Episodes 1 (pilot) and 2 are available on Hulu (free online viewing). I've posted the pilot episode below. You can watch all of season one with
Hulu Plus
.
In desperate times, the crew of Serenity is transporting passengers to another planet, only to discover that one of them has smuggled something strange in their cargo.
Season 1: Episode 1 - Serenity

Aired on 12/20/2002

Rating: TV-PG
Starring: Nathan Fillion, Gina Torres, Alan Tudyk, Morena Baccarin, Adam Baldwin
Limited time Groupon offer on
Firefly
movie prequel:
Serenity: Collector's Edition Two-Disc DVD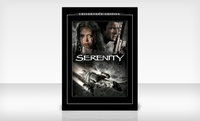 $6.99 for a Serenity Collector's Edition Two-Disc DVD ($26.98 List Price). Free Returns.