Showtime's award-winning period drama,
The Tudors
, is a historical fiction television series set primarily in sixteenth-century England. The series, named after the Tudor dynasty, is loosely based upon the reign of King Henry VIII of England.
King Henry VIII is played by Jonathan Rhys Meyers who is now starring in NBC's television adaptation of
Dracula
.
$59.99
The Tudors Complete Series DVD Box Set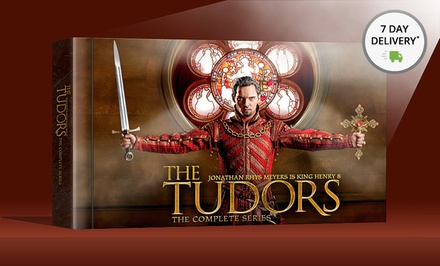 The Tudors Complete Series DVD Box Set. Free Shipping and Returns.
Showtime's award-winning series
Stars Jonathan Rhys Meyers as King Henry VIII
15 disc set
Bonus features
Widescreen
Dolby digital stereo
2044 minutes
Groupon's discounts are bigger than a dinosaur on a stepladder. You and Groupon both like doing the coolest things, you both like saving 50-90%, and you both look great in green. And if you click
my link
and buy a deal, I might even receive a referral credit!
Check out Groupon and sign up for their daily deals today!