This Japanese monster is a nuclear hybrid of a gorilla and a whale. Join WatchMojo.com as we explore the origins of Godzilla.
FlickMojo
The Origins of Godzilla
Web Exclusive

Aired on 04/14/2012
Not Rated

04:51
UPDATE: Check out the

vintage

Godzilla movie poster deal below (valid 09/27/2013 -9/30/2013).




Vintage Film Posters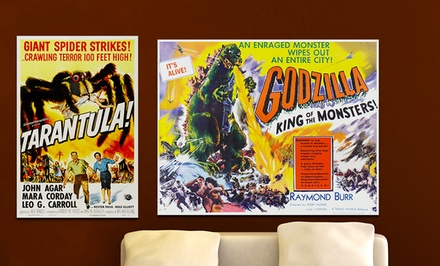 $44.99 for a 20''x30'' Vintage Movie Poster ($139.99 List Price). Multiple Prints Available. Free Shipping & Returns.
Options
Frankenstein Meets Wolf Man
From Russia with Love
Ghost Riders
Girls in the Night
Godzilla
Hot Rod Gang
Hot Rod Girl
Strip Tease Girls
Tarantula
Tarzan
Terror 5000
When Worlds Collide
I have someone I'd like you to meet. You and Groupon both like doing the coolest things, you both like saving 50-90%, and you both look great in green. And if you click
my link
and buy a deal, I might even receive a referral credit! Check out Groupon!