I really liked the beginning of the Stephanie Plum series. I rushed the bookstore for books 2 - 12. While I am partial to Ranger, I hope that Stephanie settles down with Morelli one day - soon. [
Happy belated birthday Joe Morelli!
]
Have you read any of the series?
"That shooting gave me an appetite. Somebody pass the potatoes." Grandma Mazur, #OneFortheMoney #PlumFun — Janet Evanovich (@janetevanovich) February 28, 2014


Stephanie Plum's got plenty of attitude, even though she just lost her car to a debt collector. Desperate for cash, Stephanie turns to her last resort: convincing her cousin to give her a job at his bail bonding company...as a recovery agent. - Hulu
$6.99 Janet Evanovich Stephanie Plum 3-Book Bundle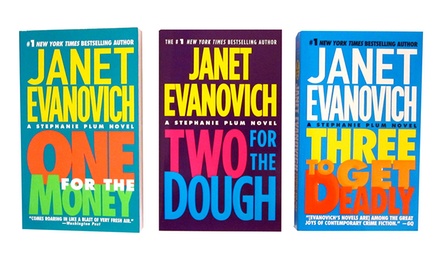 Janet Evanovich Stephanie Plum 3-Book Bundle
"Stephanie Plum, a brazen, feisty bounty hunter, tracks down criminals in suburban New Jersey with the help of her eccentric friends & family." - Groupon
Bundle Contents
•
One for the Money
; 352 pages
•
Two for the Dough
; 352 pages
•
Three to Get Deadly
; 344 pages